Changes due to COVID-19:
To protect everyone's health and safety, our funeral guidelines may look a bit different right now. Contact
Mary
to learn more.
At Southwood, we consider it an honor to provide care before, during, and after the death of a loved one. This caring ministry is one of the most significant ways we serve our faith community. During a time of loss, we pray that each would sense God's companioning presence as we hold onto hope, knowing the promise of eternal life in Christ. We believe a Christian funeral can be a celebration of joy while also providing an opportunity to acknowledge the loss while gathering in a caring community of support.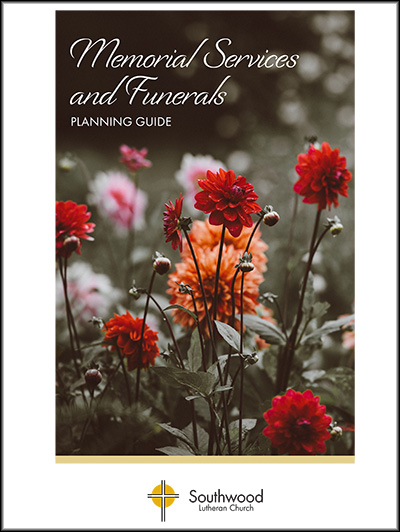 Planning Guide For Memorial Services and Funerals (updated 2020)
Worksheet: Memorial Services and Funerals
Planning a service can be a blessing to those in grief—a time to laugh and cry as stories are shared and retold. It is an honor for us to walk with you and your family during this time. For questions regarding funeral or memorial planning, please call the church at 402-423-5511.
"My heart was especially touched by Southwood when my mom passed away. I received so many cards, words of support and prayers. Knowing my love of singing, my small group donated money to the choir so that music could be purchased in memory of my mom! I was overwhelmed by the love and support I received from my Southwood family."
—Maris McCarville